Your reliable supplier of generic medications
Maxicon Main Syrup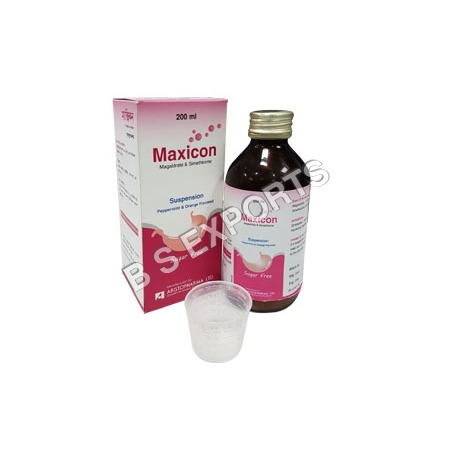 Maxicon Main Syrup
Maxicon Main Syrup
Magaldrate & Simethicone
Maxicon contains a mixture of antacid and antiflatulent/antifoaming agent. Magaldrate is a hydroxymagnesium aluminate complex that is converted rapidly in gastric acid to Mg(OH)2 and Al(OH)3. Magnesium Hydroxide is a fast acting and Aluminium Hydroxide is a slow acting antacid. So, Maxicon gives a fast onset of action due to the Magnesium containing antacid and gives a sustained action over a certain period of time due to the Aluminium containing antacid. Aluminium Hydroxide can cause constipation and this effect is balanced by the Magnesium Hydroxide which can cause diarrhea.

Magaldrate provides Cytoprotective action by stimulating prostaglandine (PGE2) release.Moreover,the negative ions present on the surface of the Magaldrate absorbs quickly H+ ions. So the concentration of bicarbonate ion (HCO3-) increases which provides mucus protection.
Magaldrate at PH above 3.0 causes binding of EGF (Epidermal Growth Factor) to the Ulcer area and stimulates mucosal growth resulting in the healing of Ulcer.
Simethicone decreases the surface tension of gas bubbles as well as combines bubbles into larger one in the stomach so that it can be passed through belching or flatulance more easily.
Contact Details
B S EXPORTS